This is the end – I'm stopping selling Fieldwork Fail !

The book « Fieldwork Fail » was a huge success. Hundreds of people from more than 50 country – you – made this beautiful project about scientists failures on the field happen.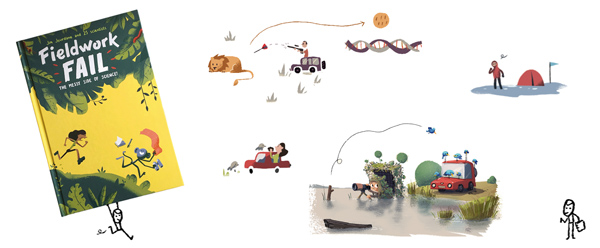 Word to mouth is excellent and many people from dozens of countries told me they love the book.


Still I have an issue right now :/
I need to close my shop, where I was selling the book. With my books still in it.


After the crowdfunding, I wanted the book available later on for more people.
To distribute them, finding a publisher could have been a choice. But talking with them made me remember why I had avoided them in the first place…


Another possibility could have been to sell directly on Amazon. As a customer, Amazon makes things easy, reliable and fast.

But there were some points I had issues with: Amazon is in monopoly situation and strangle independant book stores, the company doesn't even pay its taxes, the working conditions of employees are poor, and as a seller Amazon is complex and bureaucratic.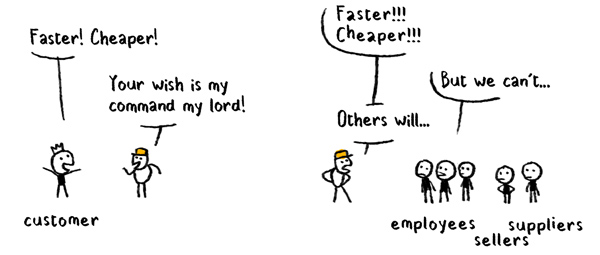 So, that wasn't my favorite model either. Was any alternative possible? Amazon seems to be difficult to avoid when you talk about selling books, but I decided to run an alternative anyway, « for a couple of months ».
I opened a website,
makisapa.com
, and connected the store to an independant fulfillment company. I shipped a palet of books in USA and in UK so that people there could get the book faster in these countries, but with also the possibility to ship the book anywhere in the world. So when you  ordered a book in my store, a guy in USA or UK was shipping the book directly to your address, and I could focus on other projects instead of having to ship myself books every two days.
This alternative that was just an experiment worked actually for one year! Hundreds of people bought the book in my shop (thank you!).
Ok, it worked with the exception that for many other people, there is nothing outside Amazon. Your book doesn't seem to even have an existence if it's not listed in their platform.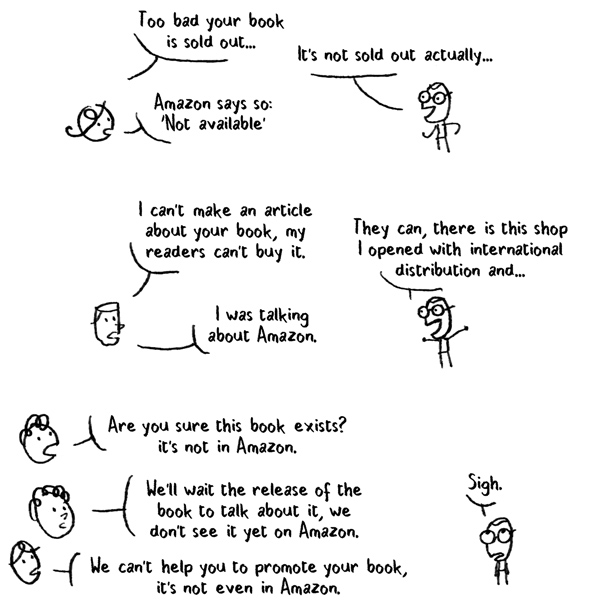 So, after this experience, is it possible to make a book ignoring Amazon?
It may but it's difficult. This independant distribution worked well for selling the book "word of mouth" but killed the idea of promoting it outside this word-of-mouth area.
Still, this independant distribution was effective, and allowed to hundreds of people to order the book !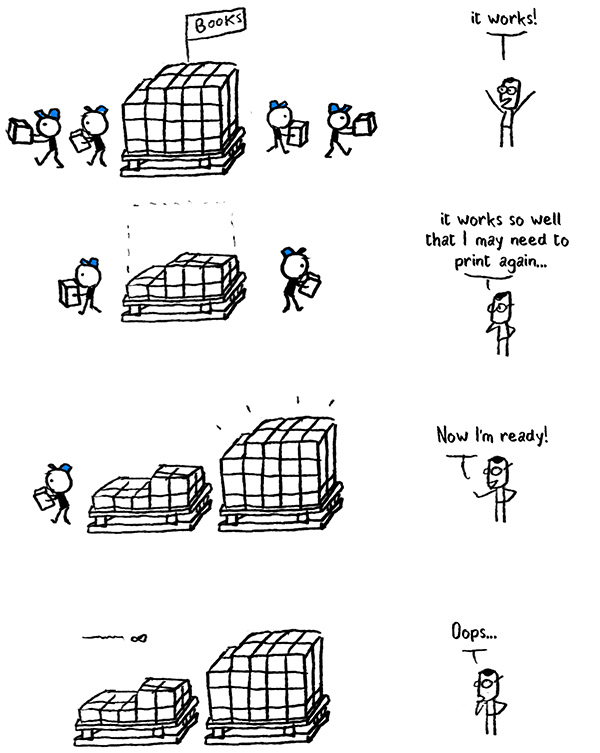 …Just enough to make me do a second print.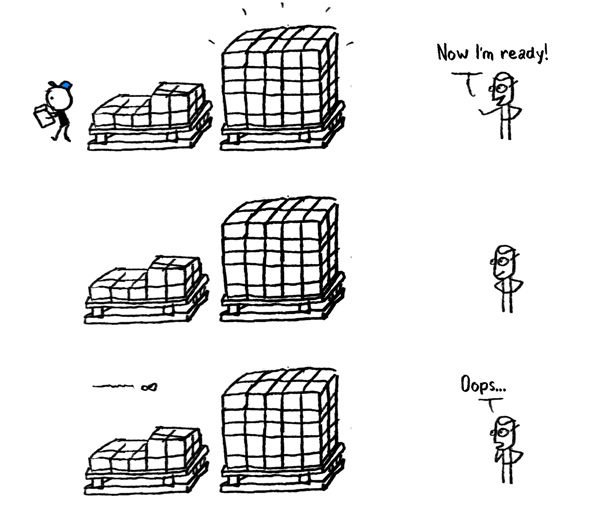 A few months later, the sales of the store were just covering the storage fees.
I could live with the status quo, but the fulfillment company contacted me two weeks ago.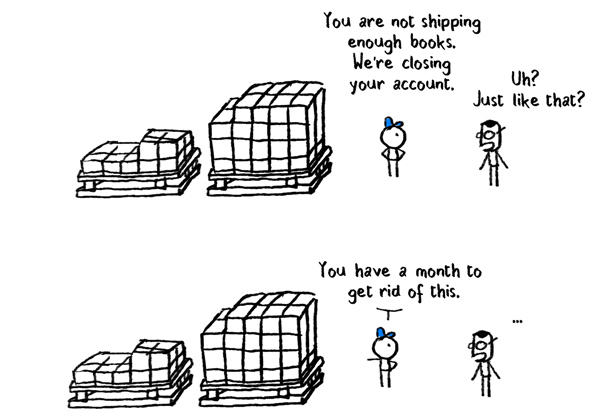 What is worse than having a huge pile of books on your hands ?
Having a big pile of books on your hands… thousands of miles away, without any places to store them. With a countdown.


Sure, there are others fulfillment companies, but in the long term, I'm not sure that the sales will cover the storage and others fees anyway.
I contacted again publishers.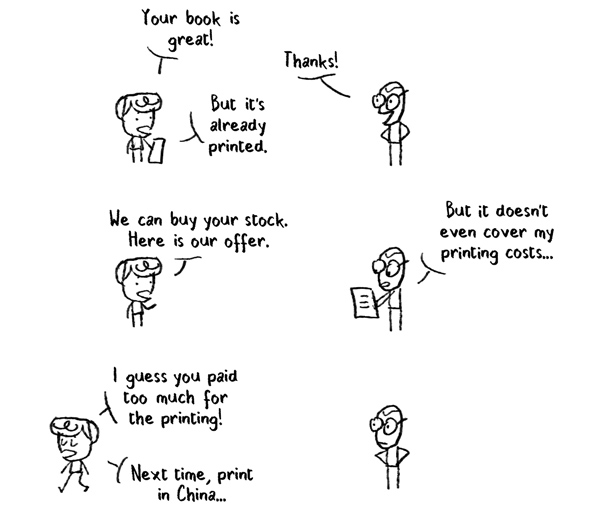 Printing wasn't that expensive but it was great quality, printed in Belgium, the specialists of comic books. As the Kickstarter was successful, I made sure to have the best printing quality I could get. And I don't regret it, they made an awesome work!
The conclusion right now:
I have the urgent need to reduce this huge supply of quality-printed books to make everything easier to handle!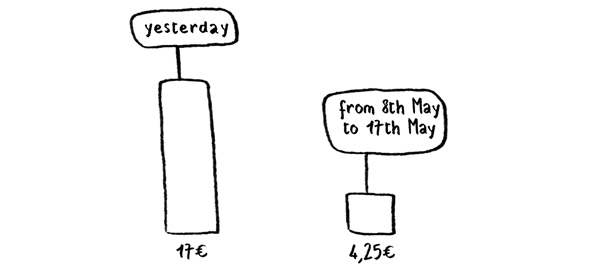 Thereafter, I will close my shop, end international shipping, and will just keep some copies (at the regular price) in
Amazon.com
(not many alternatives – I want to keep the book available and show that it does exist! If you have an Amazon account, of course don't hesitate to leave a
comment about the book
.
So, if you know colleagues, friends who could be interested, if you have a point of sale and want to sell the book, if you want to offer a copy to your school's library or at the cafeteria of your university… The book is available for 10 days for just a
quarter of the original price
.
Shipping won't be free but will be the same whatever the number of copies.
I want to finish with better news:
I may have been a bit too optimistic or ambitious on the English version but luckily all other versions of the book are doing great!
– The book in France is simpler to manage! Here too, I printed a lot of copies, but as they have been distributed in book stores with a proper release, unlike his English-speaking cousin, new readers are buying the book over time, month after month, thanks to a great media coverage and excellent word of mouth. It's the opposite: I arrive soon at the end of the stock and need now to make a new print!
The book has even been selected for two French awards:
La Science se Livre
and
Le Gout des Sciences.
Ok, eventually I didn't get these awards but it was already awesome to be selected – the book was even finalist in these two prizes!


– The book is also now in german and portuguese! Published by Verlag Ludwig in Germany, and Blutcher in Brazil. That makes an happy family of books!


Also, I have several ongoing projects that I will likely talk about in the next news.
Thank you for reading me this far!